Smart Home. The E-POPZEB Project
Transforming passive buildings into active buildings: the E-POPZEB project plans to integrate a modular wood building system with smart and renewable energy systems. Through a mix of photovoltaics, solar thermal, heat pump, home automation, electrical/thermal storage, to off-grid solutions, the system ensures optimized energy management needs.
Smart Home. The E-POPZEB Project
For an increasingly smart home
An innovative system for integrated modular wooden buildings through a Smart platform for optimized energy management and with a Building Information Modeling (BIM) system for digital representation of the physical and functional characteristics of building components. A prototype of the building was built in Colleferro at Lazio Innova's Spazio Attivo facilities and is a catalyst for regional companies and research centers working on project issues.
CONTEXT
COSTLY HOUSEHOLD
House prices per square meter, added to high maintenance costs, make it inaccessible for many young people to buy their first home. In addition, traditional houses are generally thermally inefficient and waste money.
POLLUTION
Heating systems are turned on more than average to balance the high heat loss. The materials that make up traditional houses also have a greater impact on the environment, making them less sustainable and costly to society in the long run.
OFFLINE SYSTEMS
We are increasingly accustomed to being connected to the Internet, and having smart tools and IoT technology on devices. Yet, we struggle to think that traditional homes can implement new technologies such as AI-based assistants.
SOLUTIONS
ECONOMICAL AND MODULAR
"ePOP Zeb" smart houses are composed of simple and easy-to-install wooden modules to cut down on house construction and maintenance costs. These houses are built in a few days and the work is monitored remotely.
SUSTAINABLE
The modules are composed of natural wood, which is easy to manage, repair, and reuse. The "ePOP Zeb" technology within the modules allows monitoring of location, working status, and connecting each smart device to create an integrated environment.
CONNECTION TO THE CENTER
The core of the house is based on an innovative and universal IoT platform, developed to manage all information from sensors installed on the wooden modules. Internal sensors connect with external sensors, managed from a single centered focal point.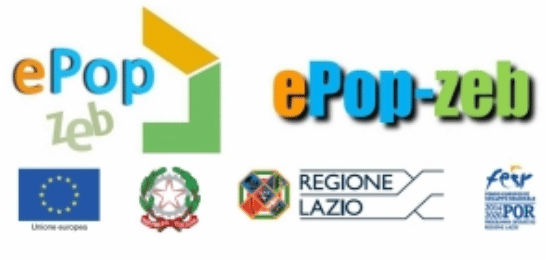 FUNDS
The project is co-funded under the Lazio Region's "POR-FESR 2014/2020" call for proposals "Bio building and Smart Building" ("Public Notice") approved by "Det No. G14229" on November 30, 2016.
ePop-ZEB
Duration: 24 months
Start date: 18/01/2018
End date: 18/01/2020
PARTNERSHIP
GreenVulcano Srl - Lead Partner.
Tec-Wood
Friuli Construction
IOmote
Ce.R.S.I.Te.S. Sapienza Roma" - Research and Service Center for Sustainable Technology Innovation.
Link Campus University"
GET IN TOUCH WITH US
Fill the form and choose the service you prefer. We'll get at you soon.
DO YOU WANT TO RECEIVE NEWS FROM GREENVULCANO?
SUBSCRIBE TO THE NEWSLETTER!
SUBSCRIBE
DO YOU WANT TO RECEIVE NEWS FROM GREENVULCANO?

Subscribe to the newsletter!