"A control system … would have allowed us to immediately understand the conditions of structures subject to possible catastrophes, and today would have allowed us to prevent many of the disasters that have occurred in recent times".
These are the words of the engineer. Paolo Persi del Marmo CEO of NTSG, a partner company of GreenVulcano.
The solution referred to, based on OF (acronym of optical fibers), comes precisely from the need to verify the health status of a structure during its life, a system patented by NTSG to monitor the 3D and 2D deformations of an element of generic shape, using optical fibers as a means of measurement, a system that finds its greatest application in the control of major works (bridges, tunnels, roads, railways, dams) and buildings: a very topical aspect given the recent tragic events that hit Italy.
The data, once acquired, passes to the IoT platform of GreenVulcano, where they are analyzed to draw up reports and statistics, and to artificial intelligence that uses them to make predictive maintenance and prevent possible future structural damage.
Most likely you will have already heard about the term Internet of Things.
Although on the internet there are excellent descriptions if you have any curiosity about the topic we suggest you start reading some of the posts of our blog and then deepen the topics that interest you the most:
But what is an IoT platform and what are its characteristics? In this series of articles, we will try to give a more complete answer by explaining the growing need for every company that intends to start IoT projects and how the company GreenVulcano Technologies, with its solid technical background, can help companies to face the many challenging aspects of the IoT revolution.
2 – An "IoT data storm" is coming. Get ready
After the initial IoT hype and the disillusionment phase, we arrived at the beginning of the widespread adoption of technology and productivity. Customers recognize the IoT as a fundamental element for digital transformation and are ready to take the right steps to be part of it.
Sensors and actuators of all kinds are added to the Internet at unimaginable speed and the IoT market will continue to be one of the best exponentially growing markets in the coming years.
Customers will always pay more attention to the estimate and the results of every investment in this field.
The amount of data that "objects" generate and download on the Internet every day has never been addressed before and will need new technologies and new paradigms to be able to collect, store, process and analyze the IoT data flow.
But how much data are we talking about when we say "data storm"?
Just to give an example on a real monitoring scenario, we show you that of a tunnel, for the control of convergence and longitudinal deformations, when it is located on land subject to landslides.
Here are some photos that show one of the fundamental activities of IoT, that is to enable objects to "speak" to communicate information. This is the tunnel walls along their entire length:
Monitoring of a gallery: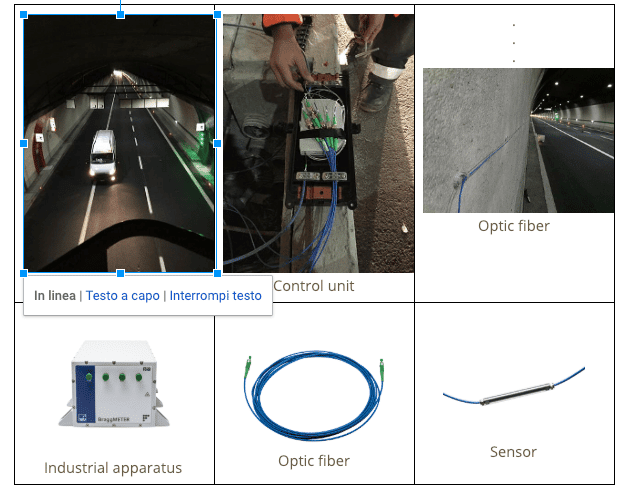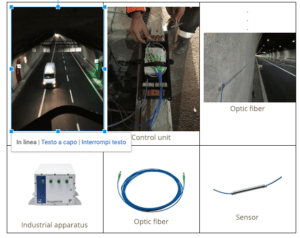 Number of sensors: 780

Sampling frequency: 10 Hz

Wiring: 30 km of an optical fiber (Val di Sambro tunnel)

Package size: 6 bytes (each sensor) + 30 bytes of header

Hours of operation: 24/24 hours, 365 days/year
it follows:
780 sensors * 10 Hz * 10 bytes * 60 seconds * 60 minutes * 24 hours

~ 46 Kb per second

161.7 MB per hour

3.78 GB per day

10 messages (~ 4.6 kb each message) per second
This is a simple scenario, but there are monitoring situations that require sampling frequencies at 1000 Hz, which may then require the transfer of 1000 measurements per second on the internet.
For a general idea, let's consider this table, which shows the ranges of data related to a group of sensors of a hypothetical IoT project:
| | |
| --- | --- |
| Amount of data of a hypothetical IoT project | # of bytes to digest over the internet |
| Small | < 100 MB per day |
| Medium | < 1-10 GB per day |
| High | < 50-500 GB per day |
| Huge | > 500 GB > 1 TB > 100 TB > …? |
This table is today quite realistic when it classifies traffic as small, medium, high and huge, and given that in the near future the numbers are destined to increase exponentially, the effect that will have is that the longevity of IoT solutions will be shorter and shorter. , therefore (again) it is important to adopt open, modular and scalable solutions and, above all, a correct methodological approach that can take account of this growth if we want to be able to exploit this revolution to the fullest.
Here at GreenVulcano, we are well aware of it has already had too many times to intervene in solutions and configurations that were not adequate and that required the design of the system starting from scratch. These situations have as a direct consequence the facing of further expenditure, with the main damage of keeping inoperative or operating only in one part, the structure on which it was already spent.
3- Conclusions
The IoT solutions will be increasingly used this because they transmit important knowledge to help digital transformation and are proving a basic element in every sector and market division. The cloud, the analysis and the IoT will extraordinarily improve the companies controlled by technology and will give greater productivity, safety, intelligence and profitability to the company. Unfortunately, most IT associations have almost no knowledge or training on operational structures such as monitoring and data acquisition supervision systems (SCADA).
So if you are serious about starting an IoT project for your organization, choosing an appropriate IoT platform and choosing an experienced service provider are extremely important and sensitive.
This is only the first step because then we need to move on to an analysis of new features that will be basic in the coming years such as:
artificial intelligence

edge computing

etc..
Things we will discover and deepen better in the next article.
https://www.greenvulcano.com/wp-content/uploads/2018/10/logo_gv_FLAT-300x138.png
0
0
Gian Andrea Fanella
https://www.greenvulcano.com/wp-content/uploads/2018/10/logo_gv_FLAT-300x138.png
Gian Andrea Fanella
2018-11-22 15:35:39
2020-12-19 07:34:01
IoT Platform: a brief introduction